OCCUPANCY RULES
&
SPENCER'S COTTAGES POLICIES
Spencer's Riverfront Cottages offers it's clients very clean and well equipped cottages on the St. Lawrence River waterfront. We have a proper boat launch and great docks that we offer free with the cottage rental. We strive to ensure the cottages are secure, and not too noisy. We have fish cleaning tables with running water. We are big fishermen ourselves and will try and give you advice on fishing, and boating, to aid in giving you the best holiday in the area.
Spencer's Cottages has a very high rate of repeat clients. When our clients find out how nice it is to have secure, quiet, clean, dependable accommodations and docking as well as terrific service, they continue to come back.
It is in trying to provide this service that we have certain rules and policies we expect our clients to respect and adhere to.
.
Please review these policies before making a reservation to ensure you will be completely happy with your stay in the 1000 Islands.
.
WHO SHOULD STAY AT SPENCER'S COTTAGES?
SPENCER'S COTTAGES SPECIALIZES IN
FISHING
AND
BOATING
SPENCER'S OFFERS A LAUNCH RAMP ON SITE, AND GREAT DOCKING FOR YOUR BOAT OR THE ONE YOU RENT FROM US
SPENCER'S OFFERS VERY CLEAN, WATERFRONT HOUSEKEEPING COTTAGES, THE COTTAGES ARE WELL EQUIPPED WITH FULL KITCHENS,
WIFI, SATELLITE TV, DECKS ON MOST COTTAGES WITH GREAT VIEWS
IF YOU ARE LOOKING FOR A GREAT PLACE TO STAY ON THE WATERFRONT IN THE BEAUTIFUL 1000 ISLANDS
IF YOU ARE LOOKING FOR A LAUNCH RAMP AND DOCKING RIGHT AT YOUR DOOR
IF YOU LIKE FISHING AND BOATING
IF YOU ARE LOOKING FOR AFFORDABLE, CLEAN, SECURE, AND A QUIETER PLACE TO STAY...
THIS WILL BE A PERFECT CHOICE!
.
IF YOU ARE NOT INTERESTED IN FISHING AND BOATING AND ARE ONLY LOOKING AT THE AWESOME PRICE THAT SPENCER'S OFFERS...
PLEASE CONSIDER STAYING AT A HIGHER PRICED HOTEL IN THE AREA, IT MAY HAVE MORE OF WHAT YOU ARE INTERESTED IN...
WE DO NOT WANT ANY CLIENTS WHO ARE ACTUALLY LOOKING FOR OTHER ANEMITIES... BUT BOOK WITH US DUE TO OUR GREAT PRICES...
ACTUAL LETTER WRITTEN BY A REPEAT CLIENT, A COUPLE OF GREAT FISHERMEN !
CLIENTS, LIKE THESE MEN, ARE WHAT MAKE THIS BUSINESS & LIFE-STYLE AWESOME !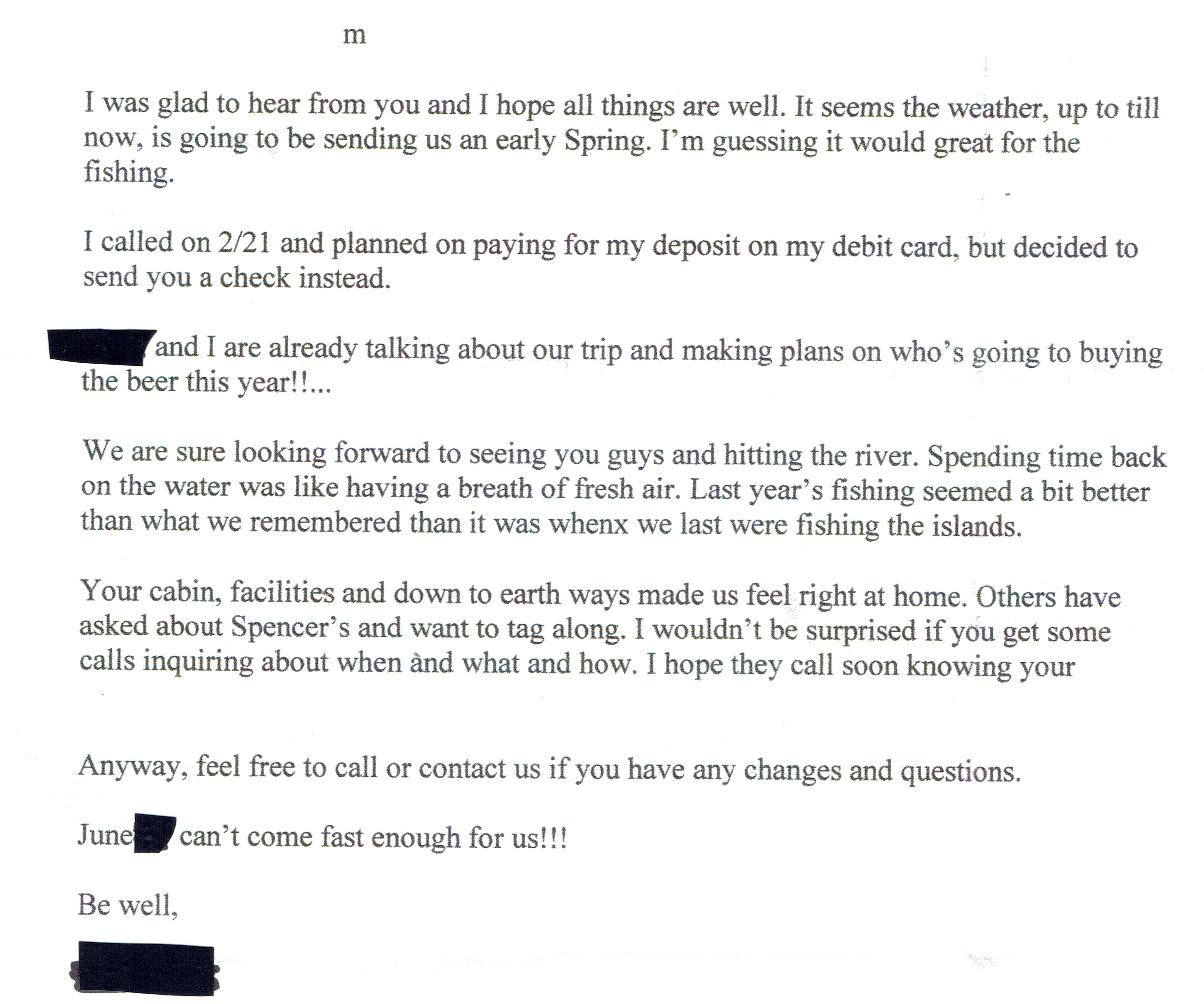 COTTAGES:
1.
Spencer's is strict about occupancy, there is no allowance for visitors, please rent enough cottages to accommodate your group,
the occupancy maximums includes all children, and are for
all times of the day and night.

( this type of rule prevents your neighbour from having a noisy party or BBQ with visitors that are not staying at the cottage, unfortunately some people try to do this )
3 bedroom cottages = 8 persons maximum
2 bedroom cottages = 5 persons maximum
1 bedroom cottages = 2 persons maximum, if you are more than 2 persons you will rent a 2 bedroom ,
.
2.
Pets:
dogs are subject to an additional fee of $10 per night, the standard dog rules apply, ( no barking, pick up after them, no damages ) but other rules are that the dog is not to get on the furniture,
and that the dog is not allowed to be left inside or outside of the cottage un-attended. It is not fair to the other cottagers to have a dog left barking or making noise.
Even if your dog doesn't bark at home, they usually do when they are somewhere strange.
3
. All cottages are now
non-smoking,
smoking is to be done outside the cottage, please use ashtray and garbage to help keep grounds clean.
All Vaping is outside
as well.
4.
Spencer's considers a reservation a 2-way contract , we will have your cottage clean and ready for you for the length of stay you have reserved. There will be no refunds for late arrivals or early departures.
Deposit refunds will be issued minus a 20% administration fee with 45 days notice of cancellation.
5. Please bring your own outdoor chairs, do not use the indoor chairs out by the fire or on the dock, indoor furniture should not be moved outside and if a chair is used on a deck, please do not leave it out in the rain etc.